Are you ready for the World Championships?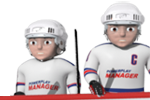 Hello friends,
The PPM Ice Hockey World Championships start this Saturday on July 3. The Hungarian and Italian organizers have created special ice surface paintings for you to enjoy. You can find them here:
You can read all about the top division on the official website of the tournament. It is translated into 4 languages, you can register and take part in the competitions sponsored by the organizers. Just click on the following link:
http://wch.ppm-hungary.com
In other news, we have added a sixth type of loan which you can take after reaching manager experience of 301. We have also fixed the discrepancies on the Finances page which occurred in leagues V and VI.
Finally I would like to announce that we are looking for translators into the following languages: Hungarian, Norwegian, Spanish (Chile), Icelandic, Lithuanian, Macedonian, Turkish, Greek, Belarusian, Hebrew, Arabic and Chinese. Please note that we are only looking for native speakers. The source language is English. If you are interested please contact me at
vladimir.danis@powerplaymanager.com
.
Have a nice day!
Penulis:

vlady

-
Penterjemah:

vlady

Kongsi di Facebook
Kongsi di Twitter
Kongsi di MySpace