Buy credits and get a free T-shirt!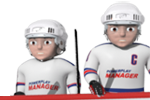 Dear friends,
We hope you are enjoying the Olympic Games in London as much as we are. To celebrate this special occassion, we have prepared a special offer for you. If you buy credits for €114.90 from today until August 13, 2012, you will get a free special edition IH1000DAYS T-shirt from us.
This is a limited edition T-shirt which we released some time ago in our Fan shop at the occassion of 1000 days of hockey on PPM. It is available in sizes from S to XXL, but only in limited numbers so hurry up to make sure your size is still available.
After completing your purchase of 1400 credits for €114.90, please send an email to vladimir.danis@powerplaymanager.com with the address where you want us to ship the T-shirt as well as your preferred size. The shipping and handling will be covered by PowerPlay Manager.
Enjoy the olympics!
Penulis:

vlady
-
Penterjemah:

vlady
Kongsi di Facebook
Kongsi di Twitter
Kongsi di MySpace