League regrouping in soccer and other news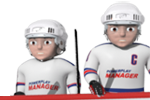 Dear friends,
on Monday we will enter our 10th season of soccer. The new season will see the start of U20 and U17 national teams. You can still sign up for elections until Sunday. Like we mentioned earlier, the senior national team managers will be able to keep under-age players on their rosters for one more season, but they will not be able to add new ones.
The new season also brings league regrouping of bottom 2 league levels in the selected countries. The regrouping is done to get rid of bot teams and increase competitiveness in the leagues. This season we have selected these countries:
Africa, Asia, Australia, Chile, Chinese Taipei, Europe, Israel, Japan, Moldova, Montenegro, Paraguay, Peru, Scotland, South America, Venezuela
We would also like to inform you, that we have improved the free agent signings. In case the team that owns the player matches your offer (or part of it after discount), the money that you offered to this player will become available immediately and you can use this money for other purposes. Until recently, the system freed up this money only after the contract of the free agent had expired.
In the last news I have revealed some details about league system in handball. This week I will tell something about the attributes of players. There will be 8 attributes: goalkeeping, field play, blocking, passing, shooting, technique, speed and aggressiveness. The positions of the field players will depend on the ratios between their secondary attributes since they all have the same primary attribute. You will have the possibility to train offensive specialists, defensive specialists and all-round players who can play at both ends of the court.
In the lineup, you will be able to set different lineups for offense and defense and also different lineups depending on the score and time of the game. For example you will be able to set a special lineup for the last few minutes of the game if you are trailing by only a few goals or a different lineup if you need to defend a lead.
That's all for now, have a nice day!
Penulis:

vlady
-
Penterjemah:

vlady
Kongsi di Facebook
Kongsi di Twitter
Kongsi di MySpace