Player salaries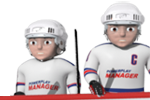 Hello folks,
We have been thinking again about the salaries of the players and we decided to create a brand new formula for their calculation. This new formula will have an immediate impact when implemented. All the salaries will be recalculated so that the conditions are the same for everyone. The reason why we are going to change it again, is that there was too much of a difference between the original formula and the current formula. This change is going to take place in the near future, probably soon after the new season starts.
We would also like to announce that we are preparing the so-called free agent market. This is one of priorities for the next season. Free agents will be players who have reached a certain age and become available for other teams. We will bring more details about this later. Of course every team will have the possibility to keep these players.
The World Championships have started and you can follow all the action and read interesting articles on the Top Division Championship website here:
You can also take part in the competitions created by the organizers of the World Championships after registering on their website.
Just a reminder that you can sign up for candidacy for the position of general manager of the national team for the next season. You can do this until Sunday. The elections begin on Monday, the first day of the next season, and they will run for the whole first week of the season.
The next announcement is about credit tournaments. We have been receiving a lot of requests from tournament organizers to remove teams from the tournament after they have approved them. We are not going to do this any more. The requests are too frequent now and they were starting to take a lot of time. So from now on please be careful when accepting teams into your tournaments.
I also have to mention that the new Spanish name database was created by manager
Secre
and the Slovak database was updated by
Donitz
. Thank you.
Finally another peek at soccer (click image to see it in full size):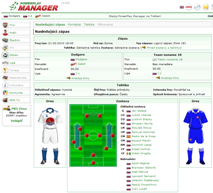 That's all for now. Have a nice day!
Penulis:

vlady
-
Penterjemah:

vlady
Kongsi di Facebook
Kongsi di Twitter
Kongsi di MySpace