Good news for the PRO Pack owners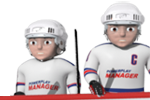 Hi friends
We have added 2 new features for the PRO Pack owners in hockey.
1. You will be able to see the relegated and promoted teams in the league standings. This way it will be very easy to see who is new in the league.
2. The best players in the season stats and also the players from the All-star team of the season were awarded with trophies which can be seen in their profiles. The trophies are really nice and we want to thank manager Andrey alias Belerafont for the trophies graphics.
I also want to remind you that there are only few days left in the special summer pricing. Many managers already bought credits for the special prices and all those who plan to do it should hurry! The promotion campaign lasts until July 22, midnight CET, so if you plan bank transfer payment, you should do it as soon as possible. Payments by credit card or paypal can be done in the last minutes without any problem.
thank you
Penulis:

tuttle
-
Penterjemah:

tuttle
Kongsi di Facebook
Kongsi di Twitter
Kongsi di MySpace