Get free credits and help your country grow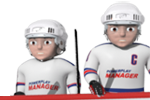 Hi friends,
Because we would like the game to be more fun for all of you, we would like to encourage you to help us increase your local communities. More managers means more fun for all of us. For helping us in this endeavour, we would like to reward you with more credits. Until now, you were getting 3 credits for each manager that registered via your referral link and reached 51 experience in any sport.
We know that this kind of system takes a long time for you to reap the benefits of your hard work. That's why we have decided to give you an opportunity to get more credits and get them faster. You will now get not 3, but 5 credits for every manager who reaches not 51, but 11 experience in any sport. Of course, if the manager reaches 11 experience in both sports, then you can earn 10 credits for one referral. In addition, you also get credits in the amount of 5% of all the credits bought by users registering through your referral link.
This campain is valid all the way until May 31, 2011. That means lots of time for you to get those referrals and earn yourselves a nice amount of credits.
You don't know how or where to get the referrals? Why don't you try and use our tell a friend form and send it to your friends. Or you can have your referral link in your Facebook or Twitter profile. You can put your referral link in your signature if you are registered on some game forums. If you have your own website, you can use one of our banners with your referral link. There are plenty of ways to gain referrals and you can use your own imagination to find new ones. You can check your progress in the PRO zone.
Please be warned, that if we find out that you are trying to cheat in any way to gain more credits, your account will be blocked.
If you play in a country which is small and doesn't have its own league and/or national team, you can actually help your local community grow enough for us to consider creating a league for your country.
Good hunting!
Penulis:

vlady
-
Penterjemah:

vlady
Kongsi di Facebook
Kongsi di Twitter
Kongsi di MySpace