Screenshots from handball and league regrouping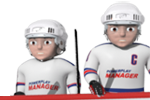 Hi friends,
I have some more screenshots from handball for you this week. Last week it was the tactics page, this week we have the line-up page for you. As I have mentioned last week, line-up will give you some extra tactical options. You will be able to create 4 different formations for offense and 4 more for defense. For each of them (except for the opening one) you will be able to set conditions when this formation should play. You can send different players on court when you are leading and different ones when you are trailing. You can also combine it depending on the time of the match. The players can appear in multiple formations, of course. Click on the pictures below to see them in full size.
We are preparing a special feature for handball which will give you the chance to be placed in the same league as your friends at the start of the full version of handball. I think I don't have to tell you that playing with your friends in the same league adds an extra edge and excitement to the game. We will publish the details about this feature later, so stay tuned.
The 13th season in hockey will draw to a close next Sunday. We have decided to do league regrouping to eliminate inactive teams in the bottom two levels in the following countries:
Bosnia and Herzegovina, Italy, Lithuania, Netherlands, Norway, Turkey, United Kingdom
Next season we plan to eliminate ties from Champions' League and Cup Winners' Cup in hockey as well as credit tournaments. Every game will go to overtime and then shootout if tied.
That's all, enjoy your weekend!
Penulis:

vlady
-
Penterjemah:

vlady
Kongsi di Facebook
Kongsi di Twitter
Kongsi di MySpace