A successful first official PPM meeting and other news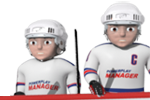 PPM project advances by leaps and bounds and especially since the summer launch of Pre-beta version it is evident even to the "common" managers. Pre beta has successfully evolved into Beta version and the game runs smoothly. We all hope this will not change.

Why not show off the achievements to the public and present the further development of PPM "face to face"? The first official meeting took place on Saturday, October 18, 2008 in Bratislava in a typical hockey atmosphere in a bar called "Hockey club". We tried to change the fact that the PPM managers know each other only via electronic communication or not at all. Personal contact helps create and strengthen friendships and form us into a good community of enthusiasts.

And who took part in this historical event? These good "fellas" from Slovakia - Tuttle, Maxo, Gioel, Mike22, Vlady, Mattko, Roman
Abramovic, Camper, Salfusco and Michael9r and from Czech Republic - Samsa with girlfriend and Mazakis. As this meeting was coincidentally held on the day of PPM migration to a new server, the guys with teams in playoff were first interested in the results of their teams. Some were pleased and some disappointed, but that's life :-). We were talking about the team building strategies, trades, team rosters, simply about everything we are interested in so much. Tuttle, Gioel and Maxo found themselves on the "hot seats" when the attendees were "pulling information" from them. "The Holy Trinity" answered patiently and with willingly to all sorts of tricky questions. The mood was very friendly and relaxed. The refreshment was great, a wide choice of both drinks and food. I, personally, can recommend Mexican chilly pan called "CALGARY", which really lives up to its name.

It was a poetic evening with only one small fault. It went by very quickly. But as we like to say, time flies when you're having fun. I have no doubts that there will be another meeting, but I hope, that there will be at least twice as many people than on the first meeting. For all the people who would liek to see the photos from this meeting, you can download it HERE
Last but not least, here are some fixes and new features:
We have found a rather serious mistake. The player salaries have not been growing from the start of their careers. We have fixed this error and so the managers will now have bigger expenses on salaries. This had to be done since the expenses on salaries were only symbolic up till now. From now on the demand for higher salaries will grow with the age of the players and in connection with their improvement. Therefore a new element has been added to the game, which is managing your expenses. Especially teams with high number of players have to be carefull. I would like to point out that the same problem exists with the staff members. This error has not yet been fixed there. The reason is simple - staff members are much more expensive than players and the teams could run into problems. First we would like to launch the staff member market so that they can be sold and then we will fix their salaries. At the same time we will increase the incomes from the sponsors by appr. 30%.
Here is an example to help you imagine the expenses on staff members so that you can get ready for this change:
Staff member attributes 20 and 20, 1st league daily salary: 1,600
Staff member attributes 40 and 40, 1st league daily salary: 12,800
Staff member attributes 80 and 80, 1st league daily salary: 102,400
The best ones are expensive but their influence is high...
Other changes:
It is possible to add a note to a staff member

The maximum quality of an attribute is 99%

One of the counter-tactics was not working well - fixed

We added the overall rating to the Staff members page

We increased the influence of the shooting attribute for goal scoring
Ivan alias tuttle
Penulis:

tuttle
-
Penterjemah:

Gioel
Kongsi di Facebook
Kongsi di Twitter
Kongsi di MySpace