Ejen pasaran dan pemerhatian percuma untuk pengguna PRO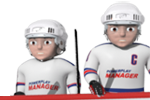 Wahai pengurus,
Beberapa bulan lalu kami telah berjanji dengan anda bahawa kami akan memindahkan beberapa ciri kredit ke dalam pek PRO untuk menaik taraf servis yang kami berikan kepada penyokong. Kami telah memberikan pemilik PRO pek pilihan untuk menonton mana2 permainan secara langsung secara percuma dan juga pilihan untuk mencari pihak lawan yang mempunyai panji dan puck. Saya gembira untuk melaporkan bahawa 2 lagi ciri kredit telah diaktifkan secara percuma untuk pengguna PRO pek sekali setiap musim dalam setiap sukan.
Saya sedang bercakap pasal Ejen pasaran dan Pemerhatian Pasaran. Ejen pasaran adalah ciri kredit yang membantu anda membida pemain semasa anda tidak boleh online. Ia berharga 10 kredit, tetapi jika anda ada PRO pek, anda boleh menggunakannya secara percuma sekali setiap musim. Kenapa tidak penggunaan tiada batasan? Kerana kami sedar hakikat bahawa sebahagian keseronokan perang bidaan adalah dengan mengetahui anda bersaing dengan pengurus sebenar di tempat lain di dunia. Kami tidak ingin mengambil unsur ini daripada permainan, tetapi, kami mahukan keselesaan ekstra untuk pengguna PRO pek. Oleh itu, kami telah datang dengan kompromi ini.
Market scout is a credit feature that helps you estimate the selling prices of players on the market before they are sold. It costs 1 credit because it creates a bit larger load on the server. For this reason we cannot allow unlimited usage of this feature. From now on, PRO pack users can use this feature for free once every season.
Pengurus pasukan kebangsaan undi setengah terma dalam bola sepak

In soccer, the first season of national teams is drawing to a close. Next week you will have the option to decide whether you want the current national team managers to remain at the helm for the entire 2-season cycle. If you are not satisfied you can vote against the national team manager. If more than half of the votes will be against the current manager, new elections will be held in the first week of next season. In that case the candidates can sign up in the final week of this season as usual. If the current manager gets support from at least half the voters, there will be no elections and the manager will remain in his position.
Diskaun krismas
Jangan lupa bahawa anda boleh mengambil peluang diskaun krismas kami di PRO pek dalam hoki. Jika anda beli 12 bulan hoki+bola PRO pek, anda akan jimat 160 kredit. Activate or prolong your PRO packs here.
If you buy at least 500 credits (or have bought since October 28, 2011), you can join the FansMania.eu Supporters Cup for free and play for a chance to get your favorite NHL jersey.
Itu sahaja, nikmati hari yang indah!
Penulis:

vlady
-
Penterjemah:
Mystery99
Kongsi di Facebook
Kongsi di Twitter
Kongsi di MySpace