The summary of the last season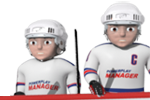 Hi Friends,
As you may have noticed, PowerPlay Manager entered a new season. First, I would like to congratulate manager Kajman who became the champion of the top league and he had the team with the highest overall team rating. What has the last season brought? We implemented a number of long expected features - injuries, hiding the exact values of qualities of attribute, dealing with sponsors. Dealing with sponsors caused also a few problems. We had to adjust it and finally everybody got the maximum offer. It should be OK in the next season.
What can we expect in the upcoming season? We started up testing season of National Cup with 8192 teams with the highest
overall team rating taking part. The Tournaments menu is working now and there you can find the National Cup. Treat this edition as a testing one, it will be tuned up step by step and surely there will be some problems. Later we will add a Live draw to this function which will be a part of the PRO pack. We are planning to finish the player market and start up the employee market. As has been announced, significant rise of salaries will take place with the start of this market which is compensated by bigger amount of money from sponsors. We will launch dealing with TV companies as well.

We expect that the most difficult solutions will have to be made in the financing of the whole project because at the moment the monthly costs are becoming too high and we will be no longer able to cover them from our own pocket. I'll bring details in the next news.
Lets get to bugs. The profit from ticket sales of promotion/relegation round games was being divided between both team. From now on the home team will take it all. A bigger problem appeared when some managers installed a new version of Firefox. It was not possible to edit lines. The solution is, that the browser should be reinstalled and JavaScript must be turned off and then turned on again. If this does not help, you must use another browser.
All of the voting for PowerPlay Manager is placed on following the page:
http://ppm.powerplaymanager.com/sk/manazer-ske-konto-online-sport-ovej-hry.html?section=propagation&subsection=support
If you would find your time to vote sometimes, it would be very helpful. Most of the pages allow you to vote once a day.
Thank you
Ivan alias tuttle
Penulis:

tuttle
-
Penterjemah:

tuttle
Kongsi di Facebook
Kongsi di Twitter
Kongsi di MySpace