Player scouting and other modifications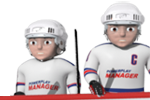 Hello friends,
As you may have noticed, changes and news at PowerPlay Manager are gaining momentum. After Live broadcast and injuries we are adding more new features. As I have mentioned in the last news, at the end of this season the negotiations with sponsors will be available. Not with TV companies yet, but that will be finished soon as well. What is new for all the managers is the fact that we have hidden the real quality of attributes and the estimated numbers by human resources and economic department are displayed instead. Up until now you have seen quality numbers which were exact. From now on, this department will estimate the qualities of attributes as well as the average quality of players in 14 day intervals every monday. Apart from these regular estimates, new estimates are made always after upgrading your human resources and economic department. The higher the level of this facility and the better the efficiency of its staff, the more precise are the estimates. At maximum level and efficiency of staff the estimate is always completely precise. So if you want to see the exact values of the quality of attributes, you have to scout the players.
What else have we fixed?
Overall team rating was not increasing correctly after wins in overtime - fixed.

We have decreased the difference in sponsor money between the first and the last team of the league. Therefore it will not pay off any more to tactically avoid promotion to a higher league.
Having had too many goals after we have increased the influence of the shooting attribute, we have increased the influence of defencemen on the goalie's performance to balance it out.

We have increased the number of staff members that can be in the team from 15 to 100. Warning! They will be expensive...
And one last thing. If you want to support us, you can vote for us on this page by clicking to 5 stars:
http://www.gratis-ting.dk/ny/spil/vis.php?id=7539&navn=Powerplay%20Manager%20Ishockey&tilbage=ok

Have a nice day

Ivan alias tuttle
Penulis:

tuttle
-
Penterjemah:

tuttle
Kongsi di Facebook
Kongsi di Twitter
Kongsi di MySpace