Kumpul pucks dan menang peck PRO!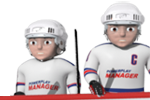 Hi Kawan-kawan,
IIHF Kejohanan Dunia bermula hari ini dan kami telah menyediakan pertandingan khas untuk anda yang akan bertahan sehingga hari terakhir kejohanan.
Setiap hari (bermula hari ini) akan ada canela baru dengan salah satu bendera daripada negara-negara yang mengambil bahagian akan muncul di salah satu laman permainan hoki. Canela terakhir akan muncul pada Mei 18. Anda akan mempunyai masa untuk mengumpul kesemua canela sehingga Mei 19. Jika anda kumpulkan mereka semua, anda akan dapat peck PRO dalam hoki untuk 7 hari. Untuk mengumpul suatu canela, hanya click ke-atasnya. Anda boleh melihat jumlah pucks anda dikumpulkan di dalam mesej khas di dalam akaun anda.
Anda juga boleh menyertai kolam ramalan Kejuaraan Dunia kami secara percuma! Kredit untuk kolam ini telah disumbangkan oleh lubosko.
Terima kasih semua. menikmati Kejohanan Dunia!
Hi friends,
The IIHF World Championship begins today and we have prepared a special competition for you that will last all the way until the final day of the tournament.
Every day (starting today) a new puck with a flag of one of the participating countries will appear on one of the pages of the hockey game. The last puck will appear on May 18. You will have time to collect all pucks until May 19. If you collect them all, you will get a free PRO pack in hockey for 7 days. To collect a puck, just click on it. You can see the number of pucks you collected in a special message in your account.
You can also join our World Championship prediction pool for free! The credits for this pool have been donated by lubosko.
That's all, enjoy the World Championship!
Penulis:

vlady
-
Penterjemah:
ykwooi
Kongsi di Facebook
Kongsi di Twitter
Kongsi di MySpace