Bonuses for daily logins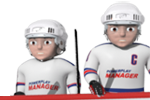 Dear friends,
as you have probably noticed, yesterday we started awarding financial bonuses to managers who log into their team on the given day. You can get this bonus every day by simply entering your team. This way you can earn extra money for your team by logging in on daily basis. These bonuses are calculated from your sponsor money.
We have impletemented this feature to reward all the active managers. Now you can gain a small advantage by being an active manager over those who let their teams run on "autopilot". Please note that if you assign a sitter to look after your team, the sitter logins will not give you this bonus. You have to log in yourself.
Have a nice day!
Penulis:

vlady
-
Penterjemah:

vlady
Kongsi di Facebook
Kongsi di Twitter
Kongsi di MySpace