Perlawanan yang ditaja untuk hadiah istimewa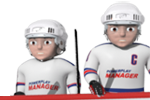 Hai kawan,
Pasukan pemaju kini sedang bekerja keras untuk corak baru di halaman depan dan inilah masa yang paling sibuk di pejabat. Walaupun semua terburu-buru kami telah dapat menyiapkan beberapa perlawanan kredit yang menarik untuk anda.
Yang paling beasr adalah
Pension Tyrol World Elite Open
dan
Pension Tyrol World B-Open
. Yang pertama adalah untuk pasukan yang mempunyai OTR melebihi 200 dan selain kredit anda dapat memenangi penginapan di
Pension Tyrol
di dalam Alps atau hadiah seperti baju dan topi PPM Anda boleh membaca semua butiran di profail perlawanan. Tarikh penginapan adalah di dalam bulan Mei, Jun, September dan Oktober pada 2011. Perlawanan kedua adalah sama dengan perlawanan pertama tetapi ianya hanya untuk pasukan yang mempunyai 200 OTR atau kurang.
Tetapi itu bukan semua. Kami mempunyai
Piala Elit Rasmi PPM
dan
Official PPM Newbie Cup
dengan derma sebanyak 500 kredit daripada PPM dalam setiap dua perlawanan itu. Sekali lagi perlawanan yang pertama adalah untuk pasukan yang mempunyai OTR melebihi 200 OTR dan perlawanan yang kedua adalah untuk pasukan yang mempunyai OTR 200 atau kurang. Yuran kemasukan adalah
2 kredit
dan pengguna yang bukan PRO akan lebih menyukai kedua-dua perlawanan apabila menerima aplikasi.
Jadi kita ada 2 perlawanan di mana pemenangnya memenangi permainan Playstation 3.
Army of Two Tournament
dibuka kepada semua pemohon dan pemenangnya akan menerima permainan PS3
Army of Two
dalam tambahan pada kredit.
Polish Dragon Age Cup
ditempah untuk pengguna Polish sahaja. Hadiah utama adalah permainan PS3 lain
Dragon Age: Poczatek
dalam Polish tambahan, semestinya, kredit.
Akhir sekali, kami ingin mengucapkan terima kasih kepada pengurus
k
vasnice
kerana meningkatkan nama database Czech.
Itu sahaja, jumpa anda semua di perlawanan!
Penulis:

vlady
-
Penterjemah:
haikalpower
Kongsi di Facebook
Kongsi di Twitter
Kongsi di MySpace