Football jerseys, World Championships and more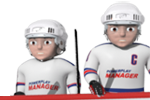 Hello folks,

As you know, the PPM Ice Hockey World Championships will start this Saturday. You don't want to miss the games of your national team. All games are free for all. You can watch them live or you can watch the replays at any time you like. All the info about the tournaments can be found under International - Senior WCH. I guess I should repeat what I said during the draw. Division II is played in round robin format with no playoff. The best two teams will earn promotion. Division I will have playoff for the top 8 teams (4 from each group) and the other 4 will play in the relegation group. Both finalists will be promoted and the two worst teams will be relegated. The top division will be played in a format identical to the real life Ice Hockey World Championships. The last two teams will be moving to division I.
The final ranking will be recorded and will be used as a basis for the World Ranking. It is certainly worth fighting for every position to get as many points as possible.
This week we have launched the new version of flash chat to make it a little more attractive. Chat can be accessed by clicking the Flash Chat icon on the right hand side of the screen. We have also partially fixed the Skyboxes page. We still haven't programmed the system of skybox lease offers though. This has been postponed until a later time. Those who own skyboxes will have the current contracts automatically renewed.
A rule which was already in place has been updated and it currently reads: It is forbidden to log into someone else's account or even to attempt it.
Finally, a look at some examples of football jerseys. Enjoy!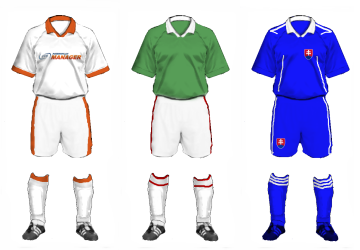 Penulis:

vlady
-
Penterjemah:

vlady
Kongsi di Facebook
Kongsi di Twitter
Kongsi di MySpace