New season starts Monday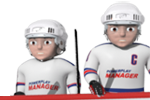 Hello friends,

I would like to inform you that the new season starts this Monday. The calculation will start at 5.00 am CET and, as I have mentioned in one of the previous news, we will be adjusting the composition of leagues in Turkey and Other World. Due to this, and also to ensure the smooth running of the calculation, the game will be inaccessible for a certain period of time. We expect to be back online at about 12.00 CET. We will do our best to make the down time as short as possible. When the game is relaunched, you will see the new season schedule in your calendars.
Thank you for understanding.
Penulis:

vlady
-
Penterjemah:

vlady
Kongsi di Facebook
Kongsi di Twitter
Kongsi di MySpace