Facebook connection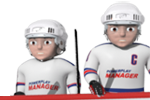 Hello friends,
Today I will tell you about the new option to connect your account with your Facebook account. You may have noticed a new button on our home page that says "Log in via Facebook". This button will allow you to log into the game with one click without filling out the username or password.
How does it work? First you need to connect your accounts in the
settings
. To do that, you need to be logged into Facebook of course. If you are already signed into Facebook, just follow the instructions on the screen. You can read more about this feature in the
guide
. Do not use the Log in via Facebook button if you don't have the accounts connected. Otherwise, you will be redirected to registration via Facebook and you would thus create an entirely new account.
I would also like to announce that you can still join our prediction pools. We offer the English Premier League, UEFA Champions League, Tennis US Open and FIBA World Championship. You can find these pools
here
.
We have also added a new application called
Live scores
. This has been a part of our old design and now we have moved it to the applications. You can check live scores from football, ice hockey, tennis and basketball. You can now also share all these applications with your friends by clicking the share button in the application of your choice.
Last but not least, I should tell you that you can now have your team deleted if you don't want to play some sport or if you want to start again with a new team. Just go to your team settings and select the option to revoke your team. The process of team revocation takes 7 days and you can change your mind at any time during this period and cancel the whole process.

Have a nice day!
Penulis:

vlady
-
Penterjemah:

vlady
Kongsi di Facebook
Kongsi di Twitter
Kongsi di MySpace