A new way of advertising players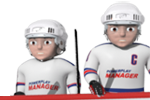 Hi folks,
today we have launched a new system for advertising players on the market. For a long time now there have been complaints about spamming in the market threads and these threads have been a source of extra work for our moderators. We have been planning this for a longer time because we wanted to do away with these threads. We have agreed with our moderators that there will only be 1 thread for advertising players and staff members on the market and this will be in the international forum. The threads in the rest of the countries will be closed and advertising on the forum outside this one thread is forbidden and will be punished. However, it is still allowed to advertise players in your events that you share with your friends on the home page.
So how does this new advertising system work? It is an auction where the highest bidder gets 2000 impressions of the advertisement within one hour. The bids are of course in credits. In order to use this feature, click on one of your players that you want to advertise and click the Advertise player link in the right menu. You will be redirected to the page where you can send bids on one of the hour packages that are available. The bidding deadline is always one hour before the start of advertising period.
The ads will be displayed on top of the most visited pages for non-PRO users and for PRO users they will be displayed instead of the skyscraper on the right-hand side. The pages where the ads are displayed are team news, team profile, calendar, league standings and team players. We will probably be adding more pages to this list.
We should also note that this system will be used to advertise other game elements as well in the future. For example staff members, logos, jerseys etc. It will also be launched in soccer as soon as possible.
Some time ago we have informed you that we are going to shoot an advertisement video for television. The video was shot last month and the final product has finally hit internet. This is actually the first of three videos. More will follow. We would appreciate if you shared the video with your friends and on various social networks. You can play the embedded video below. We hope you'll like it.
The link to share: http://www.youtube.com/watch?v=yjI3SLO705k&hd=1
Finally I would like to remind you that the Great Referral Campaign is still on. You still have enough time to collect 20 points and join the small group of users who are in the running for Nintendo Wii and PPM T-shirts. The chance to win is great if you can get those 20 points. Even if you don't succeed, you can earn yourself a nice number of credits. Up to 30 credits for one active referral.
Have a nice day and a successful school year to school kids!
Penulis:

vlady
-
Penterjemah:

vlady
Kongsi di Facebook
Kongsi di Twitter
Kongsi di MySpace