World Championships in hockey approaching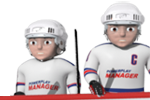 Dear managers,
The season 9 PPM Ice Hockey World Championships are set to start this Saturday in all three divisions. I am glad to announce that the Top Division tournament will be organized by Romania. Even though we have not announced any deadlines for bids, the Romanian team has taken it upon themselves to take over the organization, for which we are thankful. The organizing committee members are: ciuprian, stefg, leonidas2 and Ciukitu.
You can see the logo and mascot on the tournament page and for the presentation video click here.
The Division I tournament has been assigned to Sweden and Division II to Estonia. You are all invited to watch the games live!
And now for other news. If you have PRO pack, you can create up to 10 tactical presets. These presets can now be deleted if you no longer need them. However, you can only delete those which are not assigned to any of your future games and they also cannot be selected on your planning page. This option has been added to both hockey and football.
Want an original NHL jersey?
If you buy at least 500 credits (or have bought since October 28, 2011), you can join the FansMania.eu Supporters Cup for free and play for a chance to get your favorite NHL jersey.
You can also sign up for one of the other three FansMania tournaments in addition to the one mentioned above. You can sign up for both the FansMania.eu Supporters Cup and one of the tournaments below to double your chances of winning.
News from football
As we had promised, we have added the half-time statistics to match report. Now you can see what kind of an effect did your tactical changes have. The half-time stats are displayed in brackets after the full time stats.
However, this change has also caused that the time it takes to calculate all the league matches in the most crowded time zones has increased to over 45 minutes. Therefore we had to move the deadline to set the line-up and tactics to 60 minutes before the start of live broadcast. Thank you for understanding.
Have a nice day!
Penulis:

vlady
-
Penterjemah:

vlady
Kongsi di Facebook
Kongsi di Twitter
Kongsi di MySpace