Full version of Tennis Duel launched!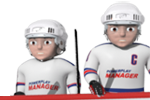 Hi friends,
the full version of Tennis Duel was launched yesterday. You can register now and be among the first players to play the game. If you had an account in beta version, you still need to create a new one in the full version.
There have been quite a few changes since the beta version. We have upgraded the match engine, tuned up other parts of the game and reduced the prices of add-ons. It is also possible to send private messages now. The development of the game will not stop here. We will keep adding new features.
The game is different from PowerPlay Manager in a lot of ways. It is not a management game and it is a completely different project. You can buy credits not only to support the game, but also to get ahead of the competition thanks to the PREMIUM packs and various add-ons. However, you can also enjoy the game for free and play it at your own pace. The ranking is divided into groups based on the level of players and no matter which level you are on, you will always have a chance to compete for higher positions.
Today we have added three new ice surface paintings celebrating medalists from the recent Ice Hockey World Championship in Finland and Sweden. The world champions Russia, silver medalists Slovakia and bronze medalists Czech Republic each have their own new ice surface painting celebrating their success. The paintings were created by ThomasHK and you can buy them here for just 5 credits. If you aren't a fan of any of these countries, you can also choose paintings from other categories (National and Special) or create your own one.
Don't forget that you only have 5 more days (until June 6) to take advantage of discounts on combined PRO packs. You can save up to 160 credits.
Vlady
Penulis:

vlady
-
Penterjemah:
ykwooi
Kongsi di Facebook
Kongsi di Twitter
Kongsi di MySpace