New Hockey Season Starting Soon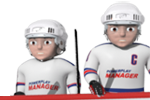 Hi folks,
we are coming to an end of another season. Hopefully you had a good one, but if not, at least you can start working on making the next one better. The sponsors will start sending their offers tomorrow, so be ready for that.
No more bids to host World Championships
This will be the last time that the World Championships will be held in one country. We are working on an update that will remove the feature where general managers post bids to host these tournaments.
The reason for this change is that the feature seems to have lost its purpose, which is to activate the community. Also people often use pictures for logos and mascots that they don't have rights to use.
As of next season, the championships will be held in randomly selected national team arenas in various countries. This change was already implemented in the other sports.
League regrouping
As usual, we will have league regrouping in selected countries to remove inactive teams from the bottom two league levels. League regrouping will take place in the following countries:
Canada, Czechia, Finland, Russia
If you sign a sponsorship contract with bonuses and you happen to be moved to a different league during league regrouping, please don't be alarmed. You will have the option to renegotiate your contract during the first 2 days of the new season so that you can make the right choice. Check your new opponents before you make a decision.
Good luck in the new season!
מחבר:

vlady
-
מתרגם:

vlady
שתף בפייסבוק
שתף בטוויטר
שתף במיי-ספייס