New election system and arena upgrades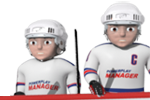 Hello friends,

once again I bring you the latest news straight from the PPM headquarters. We have made a couple of changes that you should know about. First of all we have changed the election system for national team general manager. Here is a quick insight on how it works.
Every user with at least 11 experience can give one vote at any time during the season (except the last week of the season) to a user that he would like to have as a national team general manager. You can vote for foreign users as well. You can express your support in the team profile. During the last week of the season, it will be possible to post candidacies. Then we will select the top ten candidates based on their support in the given country. Even if you have a lot of support, you still need to post your candidacy as usual to confirm that you are indeed interested in becoming a general manager. The votes from other countries will only be taken into account if there is a tie for 10th place. If, for instance, you have plenty of support from Canadian users, but you decide to run for general manager of team USA, your support in Canada will most likely not be enough to get you into the top ten.
We would like to warn everybody that sending spam messages requesting support from other users will be considered as a breach of rules and may result in bans or other punishments.
Let's move on to arena upgrades. We have added new features such as car park, ice quality and lighting and sound. We have also reduced the scoreboard price and influence. Those who already had a scoreboard were given upgrades equal to the money they had spent and the bonus to attendance has also been retained. The new features will allow you to make smaller investments into increasing your attendance with smaller effect and therefore give you more options.
As I have mentioned in the last newsflash, we are working on improvements on the game engine and tactical options. These new options and new engine should be available from the start of the next season. Among the new features will be the option to set special power play and penalty kill tactics. This will give you more control over those all-important special teams. Another thing that will be added will be the option to change game importance in between periods based on the score.
A new rule has been added today:
It is forbidden to discuss suspicious transfers or suspicions of cheating on forums, chat or player chat (suspicious cases can be reported directly to gamemasters)
If you have a suspicion that some transfer is not ok, please do not talk about it publicly, but report it to gamemasters. Violation of this rule may be punished by the gamemasters or moderators.
Last but not least, we would like to announce that we are looking for websites for banner or link exchange that would benefit both parties. If you own a website dealing with sports or if you know someone who owns such a website, please contact our marketing manager at
martin.hornik@powerplaymanager.com
. Thank you.
Have a nice day!
מחבר:

vlady
-
מתרגם:

vlady
שתף בפייסבוק
שתף בטוויטר
שתף במיי-ספייס