Special summer pricing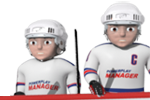 Hi all,

we have prepared a special summer pricing for you. If you make a payment of € 28, you get 70 credits as a bonus. For a payment of € 105, you get 280 extra credits. The promotion campaign lasts until July 22, midnight CET. The time of payment will be determined by the time when we receive it. So if you are going to use the wire transfer, don't leave it to the last moment.
We would like to congratulate manager
Nykvaldo
on winning our World Cup Prediction Pool. He won the first prize 253 credits and an original PPM T-shirt. His winning score was 42 out of the possible 64.
Congratulations to the winner and a nice day to all!
מחבר:

vlady
-
מתרגם:

vlady
שתף בפייסבוק
שתף בטוויטר
שתף במיי-ספייס