Winners of the Great Referral Campaign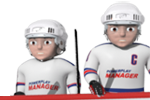 Dear friends,
we would like to announce the winners of the Great Referral Campaign which ran from May 10 to June 30. In total there were 23 managers who entered the lottery for Nintendo Wii and a customized PowerPlay Manager cap. The three managers who collected most points during this campaign automatically win customized PowerPlay Manager polo shirt. These three winners are: Pucokan, partwish031, Diego69.
The winner of the Nintendo Wii is borges79. The winner of PPM cap is Maxi24. Congratulations to all the winners! Check out our Youtube channel to see the videos.
If you didn't win, do not despair. You can still earn up to 6 credits for every new manager that you bring to this game.
It has been a while since we published any news, but that doesn't mean we were idle. We have been preparing several changes.
We have decided to make some changes on the market due to increasing number of excessive bids. These excessive bids often have to be compensated by the gamemasters in order to retain the fairness of the game. Therefore we have decided to introduce some restrictions regarding bidding on the market.
Maximum starting price will be 100 million - the main reason for this change is to protect the managers from unwanted mistakes. If you added an extra zero at the end that would make the starting bid 1 billion, it could destroy your team because the fee would be 50 million and you would never sell a player for such price. This 100 million cap will protect you from such mistakes.
It will no longer be possible to raise the bid by over 1 million or 100% - The maximum possible bid will always be double the amount of the current bid or current bid plus 1 million, whichever is higher. For example: There is a player on the market with the starting price of 10,000. You can send a maximum bid of 1,010,000, not more. The next maximum bid can be 2,020,000, then 4,040,000 etc. This change is implemented to decrease the possibility of excessive bids.

You will not be able to outbid yourself - If your bid is the highest, you won't be able to place another bid. This change is necessary so that managers cannot get around the change mentioned in the previous paragraph.
Managers who have requested cancelation of their team will not be allowed to post bids on the market. Since they want to quit the game, they will not be allowed to distort the market prices or to buy national team players who would then end up in dead teams.
All of these changes should be implemented later this week. They are not aimed to decrease the prices on the market, but to reduce the number of excessive prices which require intervention from the gamemasters. Therefore the market dynamics will not change and you can still get the same amount of money for your players or staff members.
We are also preparing some other things which we will publish very soon. One of them is the long-awaited update of the substitutions page in soccer.
Finally, I would just like to remind everyone who is playing in promotion/relegation matches that your negotiations with sponsors at the end of the season may be negatively influenced if you decide to field a significantly weaker team for these matches than your starting eleven. The best thing to do is to go all out and attempt to win these matches.
Have a nice day!
מחבר:

vlady
-
מתרגם:

vlady
שתף בפייסבוק
שתף בטוויטר
שתף במיי-ספייס