The day after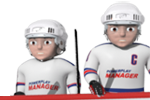 Hi friends,
yesterday we moved to the new servers. It was a long day in the office I can tell you that. There have been some complications as you may have noticed. A whole load of new bugs appeared after the migration and we have been working on catching and eliminating them ever since we have put the game back on-line. It will take a few days for us to clear everything up. So don't be surprised if you find out that some things aren't working as they should. If you come across bugs please report them on our forums in the threads designated for this purpose and we will try to fix them as soon as possible. We apologize for any troubles caused by this migration. Thank you for understanding.
As has been the case in recent weeks, we have received more help from our fellow managers with the name databases. We have got a much improved Canadian database created by
bizan
,
saint2e
,
KetchHoel
and
canucks357
and the Austrian database was updated by
stephant
. Thanks guys.
Have a nice weekend!
מחבר:

vlady
-
מתרגם:

vlady
שתף בפייסבוק
שתף בטוויטר
שתף במיי-ספייס