League regrouping in soccer and more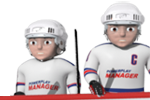 Hi friends,
another season in soccer is drawing to a close. The first ever U20 and U17 World Cups will finish this Sunday. If your national team has qualified for any of these tournaments, don't miss their matches, which you can watch live every day!
I am sure many of you are already preparing for the next season. If you are in one of the 2 lowest league levels, you should be prepared for the possibility of being moved to another league. As usual there will be a regrouping to eliminate inactive teams and increase the competitiveness in the lower leagues. This applies to all countries except for the following:
Austria, Azerbaijan, Finland, Germany, Japan, Lithuania, Switzerland
We would also like to inform you, that we have made some minor modifications in how chemistry is gained in hockey. These changes were necessary to compensate for the fact that players now gain chemistry in practice. This has no major impact on the game itself, however, as the basic principles remain the same.
Have a nice day!
מחבר:

vlady
-
מתרגם:

vlady
שתף בפייסבוק
שתף בטוויטר
שתף במיי-ספייס