Discounts on goalkeeper masks/gloves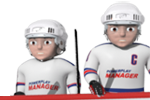 Hi friends,
I have some good news for you. For the next fourteen days, you can buy goalie masks in hockey and goalkeeper gloves in football with a 33% discount. Instead of 15 credits, you will only pay 10. So don't hesitate and personalize your goalkeepers. You have time until February 29, 15.00 CET. The discounts also apply on the same features in national team.
Which brings me to another piece of good news. National team managers can now create gloves for national team goalkeepers. These goalkeepers can wear their club gloves in club matches and national team gloves in national team matches.
We have also added an icon next to goalkeepers on the Players page of the national team if they wear a special mask or gloves in the national team.
In hockey we have changed the election system as we had promised. Now the candidates can sign up at any time of the season. Once you sign up and write your presentation, managers in that country can give you preferential votes. Then the top 10 candidates based on preferential votes will advance to the second round of elections which will take place during the first week of next season. You can read all about the election system in the guide.
It is important to note, that if you use the advertising system to promote a candidate in the elections, the link in the ad will take you directly to the candidacy presentation of that candidate. This feature can now be effectively used all season long thanks to the fact that you can sign up and write your presentation at any time of the season.
Want an original NHL jersey?
If you buy at least 500 credits (or have bought since October 28, 2011), you can join the FansMania.eu Supporters Cup for free and play for a chance to get your favorite NHL jersey.
You can also sign up for one of the other three FansMania tournaments in addition to the one mentioned above. You can sign up for both the FansMania.eu Supporters Cup and one of the tournaments below to double your chances of winning. Please note, that the three tournaments below start in 10 days. Don't miss it! They will be filled with inactive teams if there are any vacancies.
Password security
In recent weeks there have been several cases of certain people breaking into accounts of someone else. We would like you to make sure your password is secure. You should not reveal it to anyone and it should be a unique password that you don't use anywhere else. It is for your own protection.
Enjoy the discounts and have a nice day!
מחבר:

vlady
-
מתרגם:

vlady
שתף בפייסבוק
שתף בטוויטר
שתף במיי-ספייס