Pre-game preparation cancelled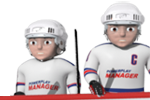 Hi friends,
For some of you, the title of this news might be a little mystifying. If you have been a PRO user for a long time, you might not even remember the so-called pre-game preparation. Until today, hockey was unavailable for non-PRO users during the game calculation. It started at 17:15 CET and lasted until all the games were calculated. Non-PRO users were getting the pre-game preparation page during that time. No longer.
After several investments into new servers and continuing optimization of their operation, we have decided that it is no longer necessary to have the pre-game preparation. We believe that in the current set-up, the game will run smoothly even if we let in all users into the game during this time. Our main concern is, to have all the games calculated before 18:00 CET. However, if we find out after some time, that the servers are unable to deal with this, we will have to implement this restriction again. Hopefully, that will not happen.
While we are on the topic of servers, we should also tell you that it seems like we have managed to deal with the server overload issues which have been troubling us over the past few weeks. We have put a lot of effort into investigating this and it seems to be paying off. We have taken some steps and the game is now more stable and therefore also more enjoyable to browse during the rush hour.
One more piece of good news is about the Hall of Fame. Last time I mentioned that you cannot induct your former players into the Hall of Fame. This is not true any more. You can now induct any player that has ever been a part of your team. You just have to find his profile and add him. How to do that? For starters, go to market and Your transfers. Here you can see every transfer you ever made, season by season. You can find your player there. Or you can go to Players - Scouts - Players raised where you can see all your Sports academy alumni.
As has been stated several weeks ago, today we are terminating our collaboration with one of our SMS payment providers. SMS payments are now only be available in Slovakia, Czech Republic and Poland as of today.
That is all, have a nice day!
מחבר:

vlady

-
מתרגם:

vlady

שתף בפייסבוק
שתף בטוויטר
שתף במיי-ספייס