World Championships start tomorrow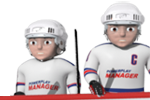 Dear friends,
for many of you the season ends today. The final playoff games will be played and then you will have 9 days until the start of season 8. This is the time for the PPM World Championships. You are invited to follow these Championships. As usual, the live games will be free to watch for all. The Czech organizers of this season's elite tournament have prepared a championship website, where you can read interesting articles and take part in various competitions. The website has 3 language versions.
Last week we informed you about the planned changes of game engine for season 8. Many of you have expressed their concerns about the fact that we have increased the influence of passer on the outcome of the shot. The people who complained were pointing to a fact that many of their wingers have too poor qualities in passing to be trained and that this will radically reduce the prices of such players on the market. Let me assure you that it was not our intention to ruin the long-term plans of any of you, nor to bring the prices of these players down. In order to prevent this, we have decided to tell you more about this change.
The idea behind this change is to give you, the managers, an extra option on how to train your wingers. If your winger has a good quality in passing, it is good to have the option to develop this skill in a meaningful way. On the other hand if he does not have a good quality, you still have the option not to train passing for this player or to train it only a little bit. Remember that the quality of the passer is determined by a combination of passing and the overall strength of the player.
A winger who spends more time on practicing passing, logically cannot spend as much time on practicing primary and secondary skills and shooting. This kind of winger will be less likely to shoot, than a player who spends less time practicing passing or does not practice passing at all. This is all relative of course and depends also on the linemates. Furthermore, the winger who spends more time practicing primary and secondary skills and shooting, will also be a better shooter.
What I am trying to say, is that there is no prescribed way how to train wingers now. You can choose from several options and you can even build lines with a sniper on one side and a passer on the other side. There is no perfect ratio of passing versus other attributes for a winger.
Yesterday you had the option to pull new players for the second week in a row. The plan was that you should have gotten a smaller number of players compared to the old system, but due to a human error this was not so. The new numbers written in the guide will therefore come into effect next week. If you haven't pulled your players yet, you can do so until Wednesday evening CET to take advantage of the old system.
Yesterday we have altered the wording of the following rule:
Warning! If there is more than one person playing PowerPlay Manager in one household, they cannot buy or trade their players and/or staff members under any circumstances. This includes people accessing the game from their school or office or people logging in multiple times from the same internet connection. It is also not recommended to play too many friendly games against each other as that may lead to suspicion of multiplaying.
That's all, have a nice weekend!
מחבר:

vlady
-
מתרגם:

vlady
שתף בפייסבוק
שתף בטוויטר
שתף במיי-ספייס