Market changes launched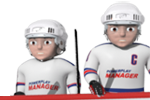 Hi friends,
earlier this week we have announced several changes on the market which come into effect as of today. Some of you have voiced your dissatisfaction especially with the fact that the maximum starting price has been capped to 100 million. You argued that you will not risk putting the player on the market if you are not guaranteed to sell him for a price that you want.
Well, we have some good news for you. We are already preparing a feature that will allow you to offer players for sale without putting them on the market. Other managers will be able to pitch offers for your players and if you accept, the player will be placed on the transfer list for 7 days so that other managers have a fair chance to get the player. The first offer will automatically come from the team that sent you the offer and this kind of offer will not be subject to any cap. We will publish more details later.
In case you missed the news about the changes, here is a quick recap.
Maximum starting price is 100 million
It is no longer possible raise the bid by over 1 million or 100% (For example: There is a player on the market with the starting price of 10,000. You can send a maximum bid of 1,010,000, not more. The next maximum bid can be 2,020,000, then 4,040,000 etc.)

You can no longer outbid yourself
Managers who have requested cancelation of their team are no longer allowed to post bids on the market
We would also like to announce that we have launched the Market agent feature for staff members in both hockey and soccer. PRO pack owners have 1 free usage of market agent per season. The system does not differentiate whether you use it on a staff member or a player, so be careful.
Finally I would like to remind you to respect the moderators and their work on the forums. In case you don't agree with their decisions, you can discuss it with them privately. Don't forget that it is forbidden to comment on an administrators' decision or ban in the discussion forum. If you don't know who deleted your post, you may contact the chief moderator or the captain of your community to resolve the issue.
Have a nice day!
מחבר:

vlady
-
מתרגם:

vlady
שתף בפייסבוק
שתף בטוויטר
שתף במיי-ספייס