Handball beta is here!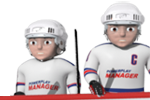 Hi friends,
The day we have all been waiting for is finally here! Beta version of handball has just been launched and you can start playing now! As we have announced on Friday, you can create a team in beta for 30 credits during the first 5 days. After these 5 days, beta will be available for free. Beta is planned to last only 14 days if all goes well.
Many of you have asked why it is necessary to pay for beta testing. The reason why we do it like this, is to avoid server crash due to the huge load that could be created by a large number of users trying to create a team at the same time. Also opening the leagues in countries is not an easy task and it would be difficult to keep up with the demand if beta was free from the start.
What's in it for you? First of all, you will have a few extra days to test various tactics and strategies. Second, users who create a team during the first 5 days will also have a little advantage when teams will be assigned to leagues in full version. There will be 3 main criteria by which we will determine the starting position of each team.
The first and most important one will be the auction. During the last week of beta version, you will have the option to reserve your place in the league of your choice. Every place in every league will have its own auction and the highest bidder will take that place when the full version starts. We will publish more details about this auction later.
All the other places which will not be sold in the auction will be filled by teams which have not reserved a place in the auction. You will be given a choice whether you want to play in the highest available league, the lowest available league or whether it doesn't matter to you. Starting in a lower league also has its advantages, so choose wisely. The users will then be arranged according to the time and date when they created their team in beta version. So if you pay credits to play beta version, you will likely be higher up the queue and get a better position.
We would like to thank everyone who decides to support the game by creating a team for credits or by taking part in the auction for league places. We would like to assure you that all the revenue generated from this will be invested back into the development of the game.
Of course, we will appreciate it very much if you help us find as many bugs as possible during beta version. You can report them in your local handball bug threads which have been opened by your local moderators. The PPM team members will relay these bugs to the developers.
Enjoy the game!
מחבר:

vlady
-
מתרגם:

vlady
שתף בפייסבוק
שתף בטוויטר
שתף במיי-ספייס