Technical problems and team strength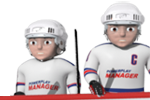 Hello friends,

I have not written to you for some time. The main reason is the fact that some technical difficulties began to occur at PowerPlay Manager, which influenced the game and we had to focus fully on these difficulties. You have probably noticed that the calculation faltered repeatedly, the Live broadcast was not working, some games have been played several times, etc. To make matters worse, the most serious problem occured, when the same players were sold twice or even three times and some managers had the same junior arrive from the academy up to 5 times. We focused all of our energy to solve these problems and fortunately, we managed to eliminate them. We firmly believe that this will not happen again. If, in any case, one of you would experience such problem please let us know.
The most notable new feature you have already noticed. The team strength chart has been added to the team profile and the Next game screen. Now it is much easier to know how strong youre team is and how strong is your opponent. The strength is divided into quarters of stars and it is updated after each league game. Many of you have been complaining about the results of your team, because you estimated the strength of your opponent from the overall team rating. However, that is only an indirect indicator and it does not reflect the team strength because it is calculated over a long period of time. Now the team strength is indicated relatively precisely and it is obvious what are the team's strengths and weaknesses. We hope that this will make the game yet more appealing to you. There is still an error in the system which causes that the games with teams without managers reduce your team strength estimate. If you experience this problem, please send us a URL link of the game summary of that particular game to support@powerplaymanager.com. We will try to eliminate this problem as soon as possible.
Closing words? We are working intensively on improving the player market and as soon as this is finished, we will launch the employee market.
Have a nice day.
Ivan alias tuttle
מחבר:

tuttle
-
מתרגם:

tuttle
שתף בפייסבוק
שתף בטוויטר
שתף במיי-ספייס