Happy New Year 2013!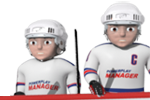 Dear friends,
on behalf of the whole PPM office, I would like to wish you all a Happy New Year 2013! First and foremost we would like to wish you good health because that's the most important thing. May the new year be more successful and happier than the last one or at least as good as 2012. We wish you a lot of success in your personal lives as well as here on PPM.
We would also like to thank you very much for your support and loyalty throughout the whole of 2012. We hope you will stay with us for yet another year and I am sure you will all be rewarded for your patience with a new sport this year.
Happy New Year to all!
מחבר:

vlady
-
מתרגם:

vlady
שתף בפייסבוק
שתף בטוויטר
שתף במיי-ספייס