Stumbling into the new season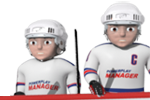 Hi friends,
Let me start with an apology for yesterday's troubles. There have been a number of outages between 6pm and 9pm CET. The server load has reached critical levels due to the fact that everybody was curious about the start of the season. We have been doing our best to solve the problems and we think we have found the problem. Gioel in particular has spent hours on the issue yesterday trying to figure this out. Most of the time he was trying to at least let in PRO pack users. The server could deal with that but when he opened the game for all, it collapsed. Eventually he found out that the "Home" page is behind all this havoc. As soon as this was turned off, the troubles disappeared. We have decided to turn some features displayed on this page off at the time when the traffic on the server is at its peak. This is a temporary measure until we find a better way of solving this.
One of the reasons for the high server load may have been the fact that the games were scheduled on Monday and everybody was in a rush to set their tactics and lineups. From the next season we plan to schedule the games on Sunday to ease the pressure on the server on Monday. Many of you have called for this change and we decided that it was time to do it.
One of the other things that we have changed is the seasonal decrease of overall team rating. We have changed it from 25% to 30%. We have made an analysis of the economy and simulated the development in the next few seasons and decided that it would be better to make this change even during this seasonal calculation. There was no time to inform you in advance but we had to do it if we didn't want to lose another season.
Finally I would like to announce that the first official international game will take place this Saturday at 8pm CET between the arch rivals Slovakia and Czech Republic. The two largest countries on PPM will clash on Slovak ice. If all goes well, the game will be available live for free. In fact, all future international games will be free to watch for everybody.
You can find the game here:
That's all for now. Have a nice day.
מחבר:

vlady
-
מתרגם:

vlady
שתף בפייסבוק
שתף בטוויטר
שתף במיי-ספייס