Draft coming soon!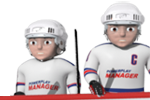 Dear friends,
as you know, this is the first season when the draft is going to be implemented into the game. Every league will have its own pool of players from which teams will choose. It should be a lot of fun. The first pool of draft eligible players will be created on day 20 of the season (April 5), which is a Saturday. The draft will take place a week later (April 12), also on Saturday. You will have one week to scout as many players as you can.
Every day you will be able to select some players for scouting. The scouting results always come in on the following day. If you have a PRO pack, you can select players for scouting for the whole week. PRO pack owners can also order their players according to their preference. In case they can't make the live draft, the system will automatically pick the player who is highest in the list and still available. In case you forget to select players for scouting on any of the days, you can scout them retroactively for a small fee in credits. Retroactive scouting will give you an immediate result without waiting.
The good news is, that players from the draft in the last week of the season, will arrive to the sports academy on day 1 of the new season after all the aging and career longevity drops are done. Therefore they will come to your team as 15 year olds with the same CL that they had during the draft.
You can read everything about the draft in the guide. The draft time will be published on the draft page once the players are visible.
We would also like to inform you, that we have modified the influence of game importance used in league games on attendance in the following home league games. Based on your comments, we have decided to reduce the attendance drops significantly to make it a little less frustrating when it happens. I am sure many of you will appreciate this change. We still believe, however, that these recent changes regarding game importance were necessary in order to keep the game fair for everyone and weed out match fixing.
Have a nice day!
מחבר:

vlady
-
מתרגם:

vlady
שתף בפייסבוק
שתף בטוויטר
שתף במיי-ספייס