New design to be launched tomorrow!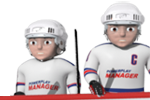 Dear friends,
the new era at PowerPlay Manager begins tomorrow May 9, 2012 with the launch of the long-awaited new design. As I am writing these lines we are making the last frantic preparations. There are just a few more details we have to iron out before we can make the transition.
At some point before noon CET tomorrow, the game will be turned off while we copy all the files and make sure everything is ready for a new start. It will probably take a few hours. We will keep you informed about the estimated time of re-launch on our maintenance page which you will be redirected to while the game is offline.
The new design will not only mean new look, but it will also bring a few new features. Once the game is back online, we will be ready to fix any bugs that you may report. We have done extensive testing, but it's impossible to catch everything even after such a long time so we will rely on your help here. You can report any bugs or errors on our forums in the designated threads.
There are a few more things that we will add to the new design in the coming weeks. After all of this is done, our plan is to start concentrating on new challenges, such as development of handball and addressing some issues regarding the economic structure of the game.
Good news also for those who buy credits via SMS. We have been able to get better prices per credit in the following countries:
Belgium, Bulgaria, Czech Republic, Estonia, France, Germany, Latvia, Norway, Poland, Portugal, Sweden and Switzerland.
In Hungary, however, we had to reduce the number of credits per SMS from 16 to 15 due to change of exchange rate.
We have also changed providers in Czech Republic and Slovakia and one of the providers in Poland has been deactivated.
See you tomorrow in the new PPM!
מחבר:

vlady
-
מתרגם:

vlady
שתף בפייסבוק
שתף בטוויטר
שתף במיי-ספייס