Youth national team manager elections launched!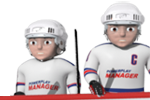 Dear friends,
we know you have been waiting for this for a long time. As of today you can sign up as candidates for the Under-20 and Under-18 national team managers provided you have the required experience (51). You can start gathering preferential votes. The rules are the same as for senior elections. Be warned that it is not allowed to get votes by spamming other users with mail. If we receive a complaint about such spam, you will be disqualified from the elections. It is not possible to run for 2 different national teams. If you already signed up for senior team elections, you may cancel your candidacy in your team profile.
You can promote your candidacy or the candidacy of your favorite candidate via the Advertising system. Just click the Advertise candidate link below the presentation of the candidate you want to promote. Just make sure you pick a time with high traffic in that country because if the traffic is too low, your ad might not be displayed 1000 times.
In order to avoid conflicts, players aged 15-18 may only be selected for the U18 national team and players aged 19-20 may only be selected for the U20 national team. As of next season, all under-20 players on the senior national teams will be automatically removed from these teams.
It will be possible to play friendly matches between various age categories. So a senior team may arrange a friendly match against a youth team. Youth teams will have the same jerseys and logos as the senior team, but youth team managers may upload their own mask designs and pucks.
Tennis Duel
Many of you already know that we have launched a tennis game of a different type as a side project. It is called Tennis Duel and you can find it at http://www.tennisduel.com/. The purpose of the game is to get your player to the top of the world ranking. It's still in beta version, but the launch of the full version is approaching fast. Try it and get to know the game before it goes to full version! Here are a few screenshots from the game:
Have a nice day!
מחבר:

vlady
-
מתרגם:

vlady
שתף בפייסבוק
שתף בטוויטר
שתף במיי-ספייס