Open Door Days During World Ice Hockey Championship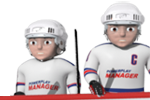 Hi friends,
a few days ago we have launched a page dedicated to PPM meetings. This page will keep you up to date with all the meetings of managers going on in your neighborhood or anywhere else. You can also check out pictures from previous meetings. We have spent a lot of time compiling information from the past meetings, but we are still missing some. If you can provide information about some meetings please contact maTTko. You can also contact him if you want to organize a meeting yourself.
We would like to invite you to Open Door Days which will take place during the World Ice Hockey Championship (May 4 and 5, from 10.00am). You will have the oppotunity to see the PPM headquarters in Bratislava, have a talk with game creators or take pictures with them and see for yourself how the game is being developed. There will also be some snack and a guest book and all visitors will receive a souvenir. Find out more in the meetings page. You can also keep up with the community news by joining our facebook page.
We have made a small improvement in the calendar. If you click on a date, the calendar window with the details about the game on that date now has info about which day of the season is selected. It is a rather small thing, but we think it will help you find out when the season ends.
Finally, we would like to welcome back our former programmer Mysho who has returned to our team to help us with development.
Have a nice day!
מחבר:

vlady
-
מתרגם:

vlady
שתף בפייסבוק
שתף בטוויטר
שתף במיי-ספייס