Winners of the Great Referral Campaign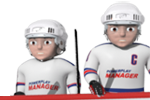 Ladies and Gentlemen,
we would like to thank everyone who has participated in the Great Referral Campaign which has been going on from July 1, 2011 to October 31, 2011. You have contributed to the growth of the game and we hope that you will continue to do so. We will now announce the winners of the prizes that were donated into this competition.
The Nintendo Wii console for the most points from referrals and the customized PowerPlay Manager polo-shirt for the most verified referrals both go to D49 from Argentina. D49's numbers are quite astounding and they helped Argentina move up the ranks in a big way.
The other prizes were drawn in a lottery from the users who have achieved at least 20 points. There were 41 users who have entered the lottery. One of them wins the second Nintendo Wii console and ten more users win PowerPlay Manager T-shirts. Here is the rundown of the winners:
Nintendo Wii: KelvinPower
T-shirt: the outlaw, emmppaa, Daved, Tilenckuuu, osa, svetinja, pablokorek, Russiastars, Pablo1878, el12
Congratulations to all winners!
Please note, that you can continue getting referrals and earning credits for them.
A new developer has joined us in the office - Tomas a.k.a. Tomkinss. He will help us with programming. Right now he is fixing small bugs and when he gets more acquainted with our system, he will get more difficult tasks. Welcome to the team, Tomas!
As you know, we are running a series of sponsored tournaments in hockey with our partner FansMania.eu where you can win discounts on NHL merchandise in a total value of €3000. All our managers have an extra €5 discount on a single purchase at FansMania.eu. Just enter code "PPM" and your nick on PPM during the final phase of the checkout.
Last weekend, PowerPlay Manager took part in a digital and lifestyle exposition called NextGen Expo 2011 in Bratislava. You can find all the pictures from the Expo on our Facebook page.
Have a nice day!
מחבר:

vlady
-
מתרגם:

vlady
שתף בפייסבוק
שתף בטוויטר
שתף במיי-ספייס