New pricing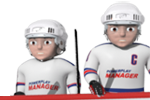 Dear friends,
as of June 1, 2011 there will be new pricing for purchasing credits on PowerPlay Manager. As you know, the prices have remained the same during the whole history of the project and they have never been changed before. However the project is facing constant growth of expenses on the maintenance of the website and servers, growing inflation and to make matters worse the VAT (Value Added Tax) has gone up in Slovakia. All of this has forced us to react because we want to ensure the financial stability of the project so that it can continute to develop without any problems.
Let me assure you that the new prices will not be radically higher because we wanted the credits to remain affordable. You can see the new pricing below:
100 credits - €10.90
200 credits - €19.90
350 credits - €29.90
1400 credits - €114.90
The number of credits which you get for paysafecard payments and SMS payments from Slovakia, Czech Republic and Poland will also be changed.
As you can see, we want to be straight with you and we are announcing the price changes in advance. That means you can take advantage of the old pricing during the next few weeks and thus save some money.
The extra revenue will be used for speeding up the development of the game. We have recently hired a new programmer Peter a.k.a. DevilQoOo. So far he is working on smaller projects as he needs to get familiar with our workflow and with how our systems and databases work. For example he has programmed Lineup C and Lineup D PRO pack options in hockey. The same options will be added to soccer.
As we had announced at the beginning of this hockey season, we were working on measures to motivate users to get promoted to higher leagues rather than staying in lower league on purpose or even getting relegated by choice. Here are the changes that will come into effect as of season 4 in soccer (which is this season) and season 8 hockey (not yet this hockey season).
bigger difference in attendances based on league level (teams from lower league will have a bit less attendance than now)

better attendance to teams on lower positions in the rankings (smaller differences between teams in the same league)
team that is promoted will have OTR reduced by 20% at the end of the season (instead of 30%)
team that is relegated will have OTR reduced by 40% at the end of the season (instead of 30%)
there will be prize money awarded to the team that is promoted equal to the prize money for winning the league
All in all, we think this will make managers think twice whether they want to get relegated or not. The best teams should be in the top leagues and that is what we want to achieve with these changes.
Now it is time to make a big push in two major projects - improving the hockey and soccer game engines. We hope that we can present an improved product in the near future. Another big project is of course the national teams in soccer.
We also plan to change the frequency of youth and staff pulls. We want them both to be every week on different days. Of course, the number of players/staff members in 1 pull will be reduced, but overall it will be more fun pulling them every week.
Have a nice day!
מחבר:

vlady
-
מתרגם:

vlady
שתף בפייסבוק
שתף בטוויטר
שתף במיי-ספייס