Server migration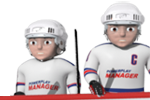 Dear friends,
as we have informed you last time, we are getting ready for a major change in the history of PowerPlay Manager. We will be changing our webhosting provider and also moving the game to new servers. However, the date of this migration is now uncertain. Originally it was planned for April 30, but we would like to do it sooner if possible. We are now in the process of test migration and the precise date of the real migration will depend on the outcome of this test. Provisionally the real migration is now planned for this Saturday, April 23. In any case we will let you know the precise date by the end of this week.
Although this migration project is not cheap financially, we are doing it in order to increase the stability of the game, your comfort and the overall standard of our services. During the migration itself and a few hours afterwards the game will be offline, of course. We will have to make sure that everything works as it should be before re-opening the game to public. The servers will have different settings and a newer version of php coding will be used, which might cause several features to not function properly. Even after putting the game back online there will likely be features that will be disabled until they are adjusted for the new system. Therefore we ask you for understanding and patience while we are trying to get everything back in order. We will also be relying on you to report potential problems. It is also possible that under some internet providers, the game will not be accessible at all for a few days because of change of DNS servers. We have taken measures in order to avoid this problem completely, but you never know with the internet providers.

We have prepared for you new
ice surface paintings
with the theme of the World Ice Hockey Championship in Slovakia. All 16 countries participating at this Championship have their own unique surface that you can put on your rink and express support for your favorite team at the Worlds. The paintings were created by our graphic artist
ThomasHK
and every country has its own chant in its own language integrated into the painting. The country whose surface will appear on most rinks, will get a special award into the country profile. Likewise country with most paintings per hockey team here at PPM. The deadline for this competition is on May 16, one day after the gold medal game.
Finally we would like to send our best wishes to our Godfather
Marcel Rodman
. His wife Veronika gave birth to their first born son Henrik only a few days ago. Now both Marcel and David will go to the World Championship as fresh fathers and hopefully all the more relaxed and motivated.
Have a nice day!
מחבר:

vlady
-
מתרגם:

vlady
שתף בפייסבוק
שתף בטוויטר
שתף במיי-ספייס