Get more credits for the same price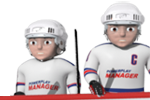 Hi friends,
we have a special offer for you that hasn't been here for a long time. From now until November 12, 2012 (10:00am CET) you can get up to 20% extra credits for the same amount of money. The offer applies for payments from €19.90 and higher and for all payment methods except SMS payments. Here are the details:
for €19.90 you get 200+20 = 220 credits (10% bonus)
for €29.90 you get 350+53 = 403 credits (15% bonus)
for €114.90 you get 1400+280 = 1680 credits (20% bonus)
If you buy credits via paysafecard, you can also get bonus credits:
for €25 you get 230+23 = 253 credits (10% bonus)
for €50 you get 500+100 = 600 credits (20% bonus)
So don't hesitate and take advantage of this unique offer to bulk up you credit balance or to get ready for handball.
Vlady
מחבר:

vlady

-
מתרגם:

vlady

שתף בפייסבוק
שתף בטוויטר
שתף במיי-ספייס