New tactical options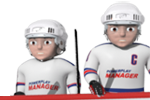 Hi friends,
it's been a while since we have made any changes to the hockey engine and over the recent months we have been hearing a lot from you how you would love to see some updates. And so we decided that it's time to do something about that. We have prepared a bunch of changes that will give you more control over your team's perfomance in each game. Here is the list of changes that you can look forward to from the start of a new season:
Option to change style of play between periods based on the score. You will even be able to select a different style of play for overtime.
In style of play your team will gain chemistry like it does in PP and PK tactics. The more you play in a certain style, the better your team performs that style.
The influence of the so-called countertactics for style of play will be increased. For those of you who remember the early days, the effect will be the same as it was at the beginning of the game. This change is implemented as a counterweight for the previous point regarding chemistry.
Option to change power play and penalty kill tactics after each period based on the score. Including option to change tactics for overtime.
The three sections on the tactics page dealing with the number of lines used in the game will be merged into one much more efficient section. This will enable you to start with 3 lines and employ the 4th line later in the game or even go with 4 lines in the first period, 3 lines in second and 4 again in the third. You will also be able to change the number of lines for the overtime. The option to react to opponent's withdrawal of the 4th line will be displayed as a checkbox in this new section.
All of these changes required some small adjustments of a few pages of the game. Of course the tactics page will look a little different. We will change the layout to fit the style used in other sports and to make it a little more user friendly.
There will also be some changes in the game summary, team analysis and team statistics to incorporate the new tactical options. We hope you are as excited as we are to see all these changes in the game next Monday.
Since there is a new season coming, there will also be a league regrouping in the bottom 2 league levels in several countries to remove inactive teams and increase competitiveness. The good news is, that if your country loses a league level due to this regrouping, it will no longer result in a decrease of your sponsor offers. We don't want anyone to get into financial troubles because of the league regrouping. League regrouping will take place in the following countries:
Belarus, Belgium, Bosnia and Herzegovina, Brazil, Bulgaria, Canada, Croatia, Czech Republic, Estonia, Finland, Germany, Hungary, Italy, Lithuania, Netherlands, Portugal, Serbia, Slovakia, Spain, Turkey, USA, Other World
That's all, have a nice day!
מחבר:

vlady
-
מתרגם:

vlady
שתף בפייסבוק
שתף בטוויטר
שתף במיי-ספייס