New trophies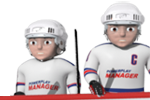 Hi folks,
today we have added new trophies into your showcase. If you finished 2nd or 3rd in any of the previous seasons in either sport and you have a PRO pack, you can find these trophies in your team or manager profile. Point values have also been determined for these trophies and these points count for the rankings of Top managers.
On Monday, we informed you about the upcoming launch of the PPM fan shop. On some of the items that you will be able to buy (namely polo-shirt and cap), you will have a flag of the country of your choice. Here is the list of countries that will available:
Argentina, Austria, Belgium, Bosnia, Brazil, Canada, Switzerland, Czech Republic, Germany, Denmark, Spain, Finland, France, United Kingdom, Croatia, Hungary, Ireland, Italy, Latvia, Netherlands, Norway, Poland, Portugal, Russia, Serbia, Slovakia, Slovenia, Sweden, Ukraine, USA
If you want to have a flag that is not on this list, please contact maTTko and in case of real interest from your side, we will add it to the list.
Remember that the Great Referral Campaign is still very much in the early days and it is still possible to challenge for top positions. Invite new managers for a chance to win Nintendo Wii, PPM merchandise and earn plenty of credits in the process.
If you are on Facebook, give a "like" to our official Facebook page where you can talk with other managers or sometimes even read news before they are published here on PPM.
That's all, have a nice day!
מחבר:

vlady
-
מתרגם:

vlady
שתף בפייסבוק
שתף בטוויטר
שתף במיי-ספייס