PowerPlay Manager financing, where do we go from here?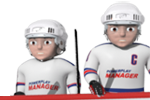 Hi friends,
As you have probably noticed our game is growing nicely and it is currently being played by over 16,000 managers. More than 9,000 of you are logging in several times a day, which means you like the game. However, there is one problem that is worrying us more and more. It is the financing of the project. This matter also touches you, the players, so I have decided to tell you a bit more about it.
The project financing is becoming more and more demanding with every month and the monthly running costs have grown to thousands of Euros. Moreover, we have decided to make the project more professional by setting up an office and hiring a second full-time programmer. This will help the project much, but the costs will grow even more. As you will probably agree, we cannot cover these costs long term from our own pocket. Therefore we are looking for solutions. A number of people offered us various financial gifts, but we would not like to take this path. Currently, we are attempting to sell advertising space on our pages with only partial success. However, we have excellent ways of advertising companies, such as the option to become a general sponsor of teams in the game or the sponsor of the live broadcast which is often watched online by up to 2,000 managers. If you know a company that would be interested in such advertising, please write us an email to support@powerplaymanager.com. We would really appreciate it.
However, only advertising will not keep the project alive. Therefore we are trying to finalize the PRO pack and make it as attractive as possible. It is difficult, as there is a number of things which are not implemented yet and we do not manage to do everything at the same time. Each month with free PRO pack is tightening the noose around our necks. We will somehow have to weather this for a few months. Having received offers for financial help from many of you, we will try one non-standard solution. We will try to launch the payment system as soon as possible and we will give people who like the game the opportunity to charge their credits in the game account. The credits will not be usable for now, but as soon as the full version is launched, they will be available for use. By charging your credits, you will provide us with a certain amount of money in advance, which will help us get over the hardest period.
You can post your opinions on this problem in the discussion forum under this news and of course we are prepared to hear some criticism too. In any case, we are grateful to everyone for their support and we believe we will bring more optimistic news soon.
Ivan alias tutlte
מחבר:

tuttle
-
מתרגם:

tuttle
שתף בפייסבוק
שתף בטוויטר
שתף במיי-ספייס