Collect pucks and win a PRO pack!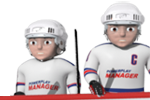 Hi friends,
The IIHF World Championship begins today and we have prepared a special competition for you that will last all the way until the final day of the tournament.
Every day (starting today) a new puck with a flag of one of the participating countries will appear on one of the pages of the hockey game. The last puck will appear on May 18. You will have time to collect all pucks until May 19. If you collect them all, you will get a free PRO pack in hockey for 7 days. To collect a puck, just click on it. You can see the number of pucks you collected in a special message in your account.
You can also join our World Championship prediction pool for free! The credits for this pool have been donated by lubosko.
That's all, enjoy the World Championship!
מחבר:

vlady
-
מתרגם:

vlady
שתף בפייסבוק
שתף בטוויטר
שתף במיי-ספייס