Merry Christmas from PowerPlay Manager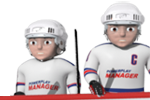 Hi Friends,
It's that time of year again. Christmas is almost upon us and we at PowerPlay Manager would like to wish you all the best for the coming holidays. We wish you a peaceful time with your families and lots of presents. We would also like to thank you for all your support you have provided in the past year. It has to be said that it has been a successful year for PPM. We have launched the full version of hockey in April and only recently we have reached 30,000 hockey teams. We hope you will continue to support us and that we will grow yet bigger.
We hope to finish the database splitting and migration to additional servers early next year and then continue with the development of soccer and put some finishing touches on hockey. Just recently we have finished the works on the skyboxes. You can read more about them and how they work under Team - Finances - Skyboxes.
We have also updated the database of names for players and staff members in Czech Republic and Poland. We would like to thank
jonkacz
and
kvasnice
for helping with the Czech database and
Deadlock
,
radaos
,
komanch
and
jacwin77
who have updated the Polish database. If you would like to help with the names for your country, feel free to contact us.
That is all for now. See you next year.
מחבר:

vlady
-
מתרגם:

vlady
שתף בפייסבוק
שתף בטוויטר
שתף במיי-ספייס