New design launched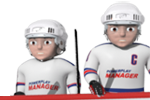 Hi friends,
it was not easy and it was not without complications, but eventually we managed to launch the new design. The whole team is now working hard to fix the bugs that you are reporting.
Due to the fact that the game was not available for several hours, we have decided to give every user who has a team 10 credits as a compensation for this lost time. Thank you for your patience and your loyalty. We appreciate it.
As you know, the market deadlines were postponed, although a little too much. That's why we have moved these deadlines back by 5 hours. In the end, the deadlines are moved by 24 hours so that everyone sells at the intended time of day. Those of you who have bought advertising for the time when the game was offline, will be refunded as soon as we find some time to do it.
If you think the navigation in the menu takes too many clicks, you may want to try the no click version. You can change this in your account settings.
We are aware of the fact that you may have troubles logging into the game or browsing through the website on your cellphones. We will be making some adjustments in the near future to make it easier on the phones.
The option to upload custom ice surface paintings has been enabled again. The good news is, that you can now upload paintings for the whole length of ice for just 50 credits instead of 70 credits. More good news is that the painting is applied immediately and there is no need to wait several days like before.
We have also enabled the 7 day PRO pack again which was not a part of the new PRO zone since yesterday evening.
You may have noticed several new features. For example the option to choose your own assistant or to upload a custom assistant and the option to customize the stands of your arena. Take this last option as a beta version. We will make it more user friendly very soon. Some of you got the impression that customization of every sector costs 30 credits, but that's not true. First you select the color for each sector and type your texts on the stands and then you save the whole arena or stadium for one single fee.
Have a nice day!
מחבר:

vlady
-
מתרגם:

vlady
שתף בפייסבוק
שתף בטוויטר
שתף במיי-ספייס