Update on development and plans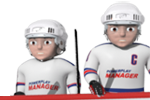 Dear friends,
I would like to update you on the latest developments and plans on PowerPlay Manager. First, I would start with newest feature, which is the national team history in soccer.
The team history for national soccer teams has been finally launched. It shows all the achievements of the team as well as medals from the World Cup, European Cup or Intercontinental Cup. It also lists the manager of the team in the given season. So far it doesn't list participations in qualifiers in the odd seasons, but that will be fixed.
Another piece of good news is, that we have fixed the daily bonus bug in soccer. There were occassions when it wasn't working for some of you because you were in public account before logging in. This problem was fixed.
I would also like to announce that we will have league regrouping in the majority of hockey leagues at the end of this season. That means that teams in the two lowest tiers will be regrouped to smaller number of leagues to eliminate noname teams. Some teams may be promoted because of this. The list of these countries follows here:
Argentina, Belarus, Belgium, Bosnia and Herzegovina, Brazil, Bulgaria, Canada, Croatia, Czech Republic, Denmark, Estonia, Finland, Hungary, Ireland, Latvia, Poland, Russia, Serbia, Slovakia, Slovenia, Spain, Sweden, Turkey, USA and Other World
Right now we are working on a new feature which will allow you to offer your players for sale without putting them on the market and risking that the player will not be sold. This feature will be available for free once a season and then it will be available for credits. We will also remove the cap for maximum starting price of a player or a staff member. We decided to remove this cap after your feedback when this change was introduced a few months ago. Instead we will introduce a cap for a maximum fee if a player or a staff member is not sold (5 million) in order to prevent teams from going bankrupt. These changes will come into effect in the next few days or weeks, depending on how the testing goes.
I guess you would like to hear about the development progress on Handball. The good news is that we will be able to dedicate more programmers and time on Handball from now on. The bad news is, that we definitely won't be able to launch beta this year as we were hoping. I will keep you informed about the progress.
That's all for now, have a nice day!
מחבר:

vlady
-
מתרגם:

vlady
שתף בפייסבוק
שתף בטוויטר
שתף במיי-ספייס