List of upcoming improvements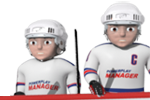 Hello friends,
As we have mentioned several times before, we are preparing a few key improvements of the game engine and tactical options. We have given you the opportunity to express your opinion on when you would like us to apply these changes. Most of you have stated that it will be best if we apply these changes from the start of the seventh season. That's also what we intend to do and we hope that you will like what we are preparing for you. It is our goal to give you as many options to influence the outcome of the game as we can. Apart from the changes that we have already announced, we have also decided to give you a wider selection of game importance options. You will be able to choose from as many as five options when it comes to importance. Their influence will be adjusted in such a way that the highest importance will have a slightly bigger effect than the current high importance. Of course, this change will also require an adjustment of the influence of game importance on energy.
In case you have missed it, here is a list of things that you can look forward to in the new season:
the option to change importance in between periods based on the score

the option to set special tactics for power plays and penalty kills
the option to set ice time for each line
change of faceoff calculations to reflect the faceoff relevant attributes more realistically
increase of the influence of faceoffs on shot count

improvement of the calculation of penalties

new special influences of each of the 6 styles of play
We think this is quite a nice set of improvements and I, personally, am especially looking forward to the power play and penalty kill tactics.
So much for the changes in preparation. We would also like to invite you to the World U20 Championship prediction pool. Future NHL stars will skate at this event. The sign up is free and we have donated 300 credits to the prize pool which will be divided amongst the top ten.
Hint for today: You can add threads to favorites so that you can follow them easier. The favorite threads will be displayed on the right hand side of the screen and thus you can access them fast and easy. To add thread to favorites click the gray star next to the thread title. The yellow star indicates that the thread has been added to favorites.
Have a nice weekend!
מחבר:

vlady
-
מתרגם:

vlady
שתף בפייסבוק
שתף בטוויטר
שתף במיי-ספייס